***Teachers, please contact us about bulk order pricing, for your students!***
---
- A 4.000% sales tax will be added for all Louisiana residents. -
** For international orders, please contact us BEFORE ordering and allow up to two weeks for delivery.**
-Choosing the Right Size-
Each, The RemindAir Breathing Strap™ can be adjusted to fit measurements substantially smaller than the straps original length. For example, my rib cage measurement is 32". I can wear a small, but a Medium works much better on me because the extra material allows me more sizing options, and is very comfortable. I am wearing a Medium in the photo, below. Please measure, with a tape measure, (Tailor/sewing tape measure), your total rib cage circumference, (at widest part of rib cage - lower Sternum) in order to determine which size would best suit you. Even though The RemindAir Breathing Strap™ has a good stretch to it, If your measurement is the same as, or very close to the

original

length of any strap, our advice is that you go up to the next size strap. If you have any questions or are unsure about sizing, please contact us before ordering. Also, if you find that you need a size larger than we have here, in the store, please let us know and we will do our very best to accommodate you. If your, The RemindAir Breathing Strap™ does not fit, you can exchange it for a different size or a refund. Thank you!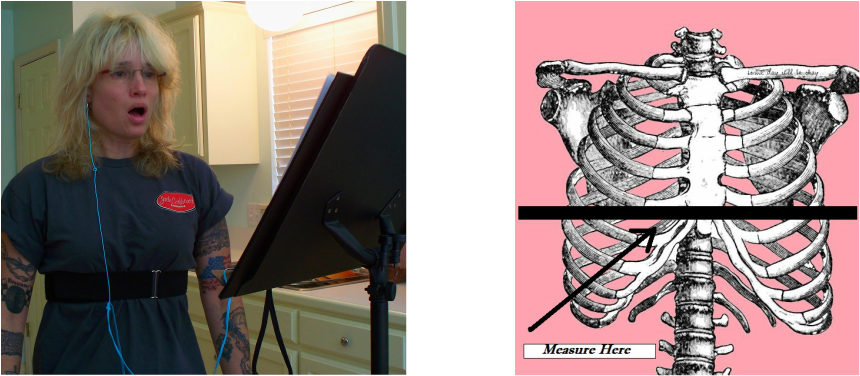 -Approximate Sizing Guide-


If rib cage circumference is:

30" or less - Small
31" - 35" - Medium
36" - 45" - Large
46" - 55" - Ex-Large


This is an approximate guide, though generally accurate. Everyone is different, so if for some reason, after receiving your strap, you feel you need a different size, please let us know and we will be happy to exchange it for you. If, before you order, you are unsure about which size you need, please contact us. We will be glad to help you make the correct sizing determination.


Our Straps are measured, cut, and sewn by real people with a tremendous amount of love for what we do, because not only do we make The RemindAir Breathing Strap™, but we are all singers, students, and teachers of Classical voice, as well. So, we know and understand the importance of learning proper breathing technique and the amount of work, dedication, determination, and practice involved in our attempt to master it. We offer you The RemindAir Breathing Strap™ out of our passion for teaching, learning, and singing. Our sincere desire is to help students of singing with their quest in learning to take the proper breath.
Psalm 59:17 To You, O my Strength, I will sing praises; For God is my defense, My God of mercy.
We are Christian owned and operated.