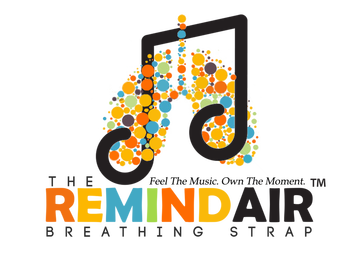 Testimonials from the Professionals!
Jaclyn Leigh, Professional Mezzo Soprano and Voice Teacher, talks about The RemindAir Breathing Strap!
"I have seen a definite improvement in my students breathing and supporting, since using The Remind-Air Breathing Strap. The strap stays in place and allows the singer to concentrate on releasing the air, gradually, without having to keep their hands on the rib cage. I am grateful to Caroline for her dedication in making the breathing and supporting process easier for teachers and students, alike." -Professional Mezzo-Soprano and Voice Teacher, Megan Dearie
"The Remind-Air Breathing Strap is a great device for developing rib expansion and breath management. I had been using a TheraBand to accomplish the same thing, but this device is much more durable and easier to use. Highly recommended for all singers and voice teachers!" -
Claudia Friedlander, DMus, NASM-CPT -
Voice Teacher, Clinician, Writer and Teaching Artist
"I am so excited to have received my The Remind-Air Breathing Strap - For Teachers and Students of Singing!!! If you have had a lesson from me or heard a lesson taught by me, you are well aware that I am OBSESSED with the breath. You are probably familiar with me using belts and bungee cords as tools to assist in correct breathing. But now, we get to use this amazing, simple tool that wraps perfectly around the body, tracing the diaphragm, and works as a form of resistance against the breath. So far, my students who have used it, LOVE it, and I of course love it. Such a huge difference when they have a reminder of where to breath!" -Professional Mezzo-Soprano and Voice Teacher, Jaclyn Leigh
"Recently I received a breathing strap from my friends at The Remind Air Breathing Strap. What it does is simple. It reminds you of the proper breath during inhalation that you should be taking, SANS your teacher or coach's verbal reminders…..or the way they sneak up behind you and start squeezing your rib cage to check for proper inhalation. This really is great for teachers of voice, professional singers of all genres and can be used during rehearsals AND performances. The strap comes in a variety of sizes to insure a proper fit. What I loved about it is the fact that it stayed in place during a rehearsal. It was very neat, so it fit great under my shirt. One of the best features is that the belt is designed so that when worn properly, it gives you a gentle reminder of WHERE you are breathing. With my first few measures my tone sounded even more grounded and that I was out of my own way, it reminded me that my body was helping me to get the work done, NOT just my vocal cords. Thanks to your product, it has been nice to actually fine tune some habits that we pick up as soloists. You are really on to something here!"
-Professional Mezzo-Soprano, Bri Cooper
"The RemindAir Breathing Strap has made me more conscious of breath support. Because of that, I have a better approach to a healthier, more efficient and natural way of singing."​ -Professional Soprano, Kathleen Moore
"Thank you! I'm really enjoying the one I already have. I just needed a smaller one for my skinny students! I have been improvising something to do this job for years. I am so glad you decided to make and sell this!" -Professional Voice Teacher, Elizabeth Field - Field Studio, North Carolina
"I have been so sick with bronchitis and sinusitis since Dec. 27 and coughed my voice way out of place. I have a concert in March. So today, I thought I would "get it together" and work hard on my music. It was awful and I kept telling myself, "it's always about the breath and support". After an hour of struggles, I got out the breathing strap. I'm telling you, while I'd not needed it before but shared with my students in lessons, I needed it today. It helped me so much. Thanks again." - Professional Soprano and Voice Teacher, Florida
Student Testimonials!
"The Remind-Air Breathing Strap is great, and has really helped me during my lessons. It has really helped me maintain proper breathing technique." -Jenna H. 16 yrs old. Winner of the 2014 American Idol Experience, Hollywood Studios - Disney World
"This strap helped me A LOT.

It is difficult to understate how important it is to learn to control your breathing while singing. This strap makes me more aware of my technique, and it doesn't make me look ridiculous in the process.

This is an awesome product. I can't believe that it didn't already exist. EVERY voice teacher should have one of these for his/her students." -Megan T.
---
Psalm 59:17 To You, O my Strength, I will sing praises; For God is my defense, My God of mercy.
We are Christian owned and operated.