"All of you singers out there. I have been spending the past few months focusing on improving my breathing while singing. The RemindAir Breathing Strap™ has been such a help! I wear it during rehearsals, and during performances. I have noticed a significant change in my ability to extend the quality of notes I sing and the tone I produce. Sure we all know this type of support is important, however, as performers we are often left up to our own warped devices to produce a tone....any tone that sounds good when we are under pressure. So, for the first time in a long time, I spend a second and reset for a proper breath because of using the strap....it reminds me. I had a session with a conductor last week and he said, "whatever you are doing...keep it up! So, THANK YOU again, The Remind Air Breathing Strap!" Professional Mezzo-Soprano, Bri Cooper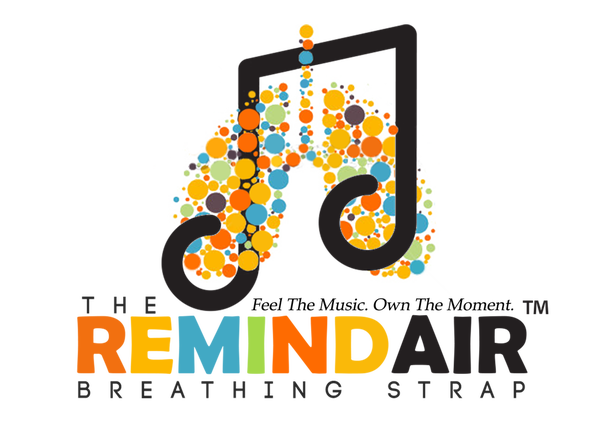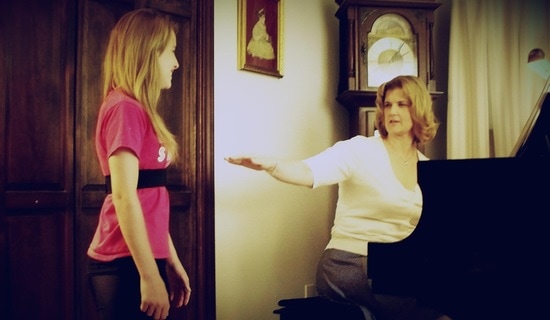 The RemindAir
Breathing Strap™
has been created specifically for teachers and students of singing.
We all know how difficult it is to master the technique of breathing/expanding from the rib cage, and as students of Voice, we often find ourselves reverting back to the mistake of Clavicular breathing. Normally, using items that tie around the rib cage, Megan and Caroline thought it would be advantageous to have a designated, specially designed, hands free tool, that would wrap around the rib cage, wouldn't come loose, would stay taut, and would not only serve as a reminder to students of the type of breath they are taking, but something that would allow the teacher to see the breath, as well, and do it consistently. Megan and Caroline, putting their heads together, and through trial and error, came up with the The RemindAir Breathing Strap™. A simple yet effective tool to aid in rib cage expansion and breath management. All of their straps are handmade in the USA.
​Now, As we all know, when nerves kick in during a performance, the first thing to go is our breathing technique, and without proper breathing, we've got nothing as trained singers. So, although our straps are made to aid in teaching rib cage expansion and breath management, they are also extremely useful during any type of performance, whether a stage production, recital, audition, rehearsal, or any other performance. Our straps will give you that extra confidence and reminder to breathe properly, when under pressure. Nerves will always be with us, but The RemindAir Breathing Strap™ can help combat those nerves when on stage. We have many singers who use them for this specific reason.
Each strap is made of elastic and hook/loop, and are 2" in width.
Length:
Small - approx 31"
Medium - approx 36"
Large - approx 46"
Ex-Large - approx 55"

Please see the STORE page for more information on sizing.

"Our Straps are measured, cut, and sewn by real people with a tremendous amount of love for what we do, because not only do we make The RemindAir Breathing Strap™, but we are all singers, students, and teachers of Classical voice, as well. So, we know and understand the importance of learning proper breathing technique and the amount of work, dedication, determination, and practice that is involved in our attempt to master it. We offer you The RemindAir Breathing Strap™ out of our passion for teaching, learning, and singing. Our sincere desire is to help students of singing with their quest in learning to take the proper breath." -Team RemindAir
*Teachers, please contact us about bulk order pricing, for your students!*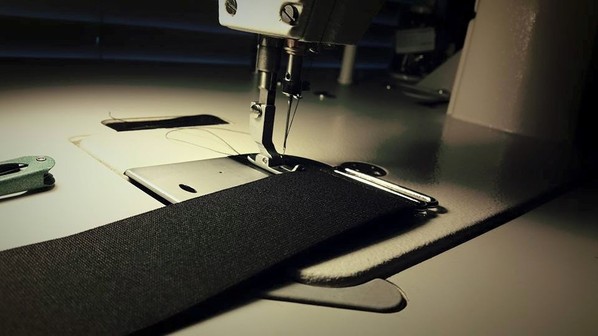 How To Use The RemindAir Breathing StrapTM
The RemindAir Breathing Strap serves as a reminder. Make sure your RemindAir Breathing Strap is snug, while still maintaining comfortable movement of the rib cage. The RemindAir Breathing Strap will remind you, with every inhalation, whether or not you are taking the proper breath. You will feel your RemindAir Breathing Strap expand with every breath, when taken correctly.

To secure your RemindAir, simply hold it across the back of the rib cage, with Velcro facing outward. Pull end across the front of the rib cage, pulling end through buckle. Then, pull end across rib cage in opposite direction, securing end to Velcro.

---
The Importance of The Breath
Look for our Ad in Classical Singer Magazine!
---
Psalm 59:17 To You, O my Strength, I will sing praises; For God is my defense, My God of mercy.
We are Christian owned and operated.